From Boston to Verona: refined wedding banquet at Palazzo Verità Poeta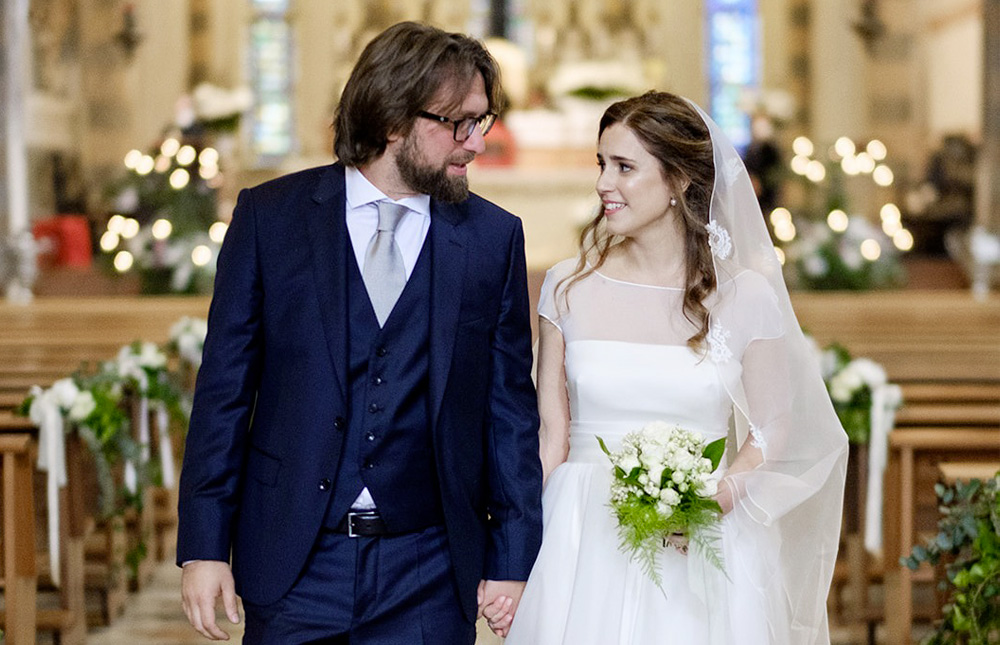 Sara contacted me for the first time in 2019, to plan her wedding with Cristian. The couple, resident in Boston, had the desire to return to Verona for a refined wedding banquet at Palazzo Verità Poeta.
The wedding date initially set for May 2021, was then postponed to May 7, 2022 due to the pandemic. Nevertheless, the newly-weds and guests were able to enjoy the magical atmosphere of Verona and a rather sophisticated reception, with attention to even the smallest details. The ceremony was celebrated inside the Basilica of Santa Anastasia, decorated with white flowers for the occasion.
Sara arrived dressed in a simple white wedding dress, the perfect emblem of purity.
Refined wedding banquet: typography in watercolor
The password is elegance. My young newly-weds dreamed of a reception with soft tones and above all where elegance was the guiding thread. So we agreed on an artisanal choice of stationery. All the typography was created ad hoc in watercolor, with soft and at the same time refined shades. The meticulous attention to detail in the project is fundamental for me and must be included in every moment of the big day. The watercolor certainly helped us to recreate the elegance so desired by the couple. Only art could give this effect.
The banquet menu features a fresco in a room of the Verità Poeta building, the location chosen by my newly-weds.
An eighteenth-century location
Palazzo Verità Poeta is located right in the heart of Verona, surrounded by its beauties and a casket of enchanting architecture. The eighteenth-century frescoes, the internal rooms and the scenographic baroque garden immediately captured the heart of Cristian and Sara, to the point of choosing it as a venue for their wedding.
I paid great attention to the design of the banquet tables. White was favored as a color for the setting, but certainly the centerpieces and stationery in watercolor embellished the scene.
Unique and precious details, which created a dream atmosphere on Sara and Cristian's most beautiful day.