Wedding Planner
Giulia Bolla
Wedding planning is something special and magical: it takes many months to perfect. This is the reason why I'm here: to lead you step-by-step through the choices that will make your wedding day as special as you have imagined it, worries and unforeseen events free.
From the whole organization to the Wedding Coordination Day service. Tell me your dream: together we will make it come true.
Wedding
The ceremony and wedding party venue choice is the first step to define the whole event style. It must match the bridal's likes with logistical and organizational needs: everything will develop in harmony. Have you already chosen the venue, or are you still selecting different opportunities? I will support you through this amazing experience.
Verona
The city of Everlasting Love where the most famous lovers in history vowed: Romeo and Juliet. Ranging from the beauties of the ancient city to the luxury residences, to the fragrance of Valpolicella hills to the wonderful gardens of the 18th Century villas.
Garda Lake
Ancient poets and artists of the past have sung praises of the magical atmosphere of Garda Lake: ancient villages, historic castles facing the shores provide spectacular views and landscapes. Due to its mild climate and awesome scenarios, Garda Lake has become a most sought-after destination.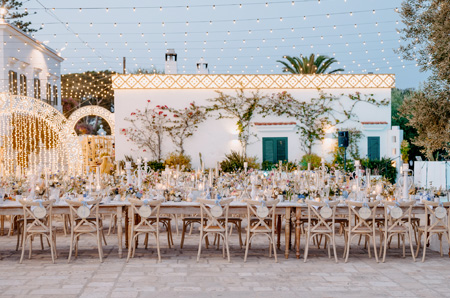 Italy
Italy provides exclusive venues thanks to its charming natural beauties which are a perfect background for wedding. From North to South each region has its own charm, its history, combining tastes and traditions. Which is your destination? My team and I will provide support in your marriage organization.
Wedding Services
Personalization is my motto. Bridal dedicated services to create exclusive and unique events. Search, style study and design, wedding theme: each detail will be taken care by a specialized team and me.
EVENTS & PRIVATE PARTY
Not only wedding, I also plan dinner and birthday parties and important occurrences. I plan events for companies and boutiques which wish to share special moments and exclusive parties with their customers, mixing fun, suggestion and creativity.